case study: directory and search application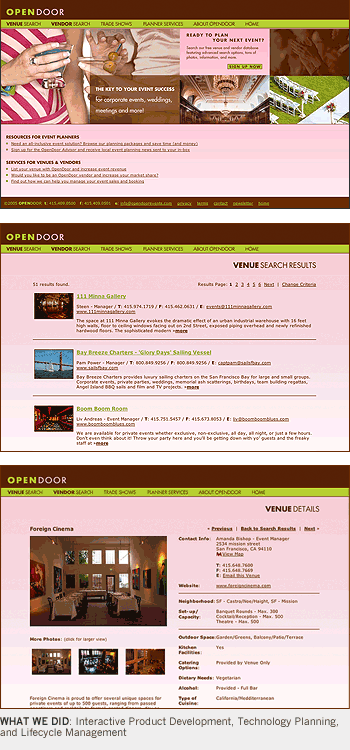 This directory and search application helps event planners find venues and services for their customers. We provided all of the technical expertise to launch this new online business venture.
Inspiration, as they say, is 90-percent perspiration, 10-percent luck. The same can be said of the perfect wedding, conference, workshop, or large gathering, which as every event planner will tell you takes an awful lot of work. OpenDoor Events came to CyberSense IT for help developing the ideal Web-based tool-kit for event planners.
our web development solution
OpenDoor's site required a crash course in event planning. Through intensive sessions with the OpenDoor staff, CyberSense IT consultants put together a product plan that called for the industry's most extensive web tools for event planners.
At the core of OpenDoor's operations are two complimentary interactive applications: VenueSearch and VendorSearch. We worked closely with OpenDoor staff to explore possibilities for the software, develop requirements documents, outline the database, and produce a front-end interface to make the tools easy to use and understand.
To enable the software, we developed a custom back-end database, a user registration system, admin and profile editing tools, and an extensive data upload tool for vendors and venue managers to update their listings. We also provided design and copywriting for the project through our sister company, DesignSense Studios.
Go Back